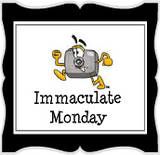 This afternoon I have been working on the other side of the kitchen. The countertops were cleaned on Saturday, so today I decluttered items on the counters. I looked at what could be stored elsewhere and what items could be removed entirely.
I also worked on one of the cabinets below the countertop. It took less than 15 minutes to do all of this. I am always very amazed at the power of 15 minutes.
To see other Immaculate Monday activities, visit
here
.